Three years ago Crystal Bassette was a successful porn star, featuring in over 100 films and earning around over R3.9 million a year.
Three years ago Crystal Bassette was a successful porn star, featuring in over 100 films and earning around R3.9 million a year.
But after 10 years in the industry, Crystal, from Clay, New York, turned her life around after finding God and marrying a pastor. Falling pregnant at 16, Crystal was determined to giver her son the best life she could. However, after moving to Hollywood from North Carolina she soon realised that living in a safe neighbourhood came with a sky-high price tag.
Following a few years of modelling, feature dancing and pole competitions, Crystal – now 33 – met with an adult film gent to discuss starring in porn films, who told her that she could be making around R40 000 a month.
On Connect: Peep Drake's baby mama: He definitely has a type!
Struck by the opportunity to make serious cash to support her son, Justin, Crystal attended her first scene at a house in Malibu soon after the meeting. She says, 'I remember after the scene, I just sat in the shower for about two hours crying.'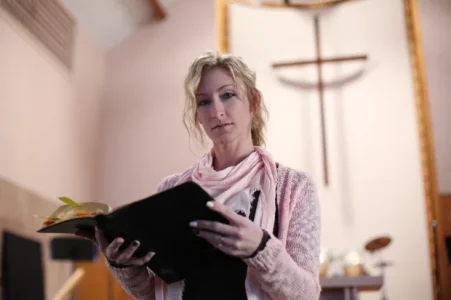 Stuck in a cycle of alcohol abuse and splashing her money on sports cars, a nightclub and a mansion, Crystal says she was sucked in by the materialistic lifestyle and lost herself in the haze.
'My mind was so messed up and after reading the Bible I know that I was haunted by a spirit of Jezebel,' she says, referring to the biblical queen who has now become a symbol of promiscuity.
Eventually Crystal decided to shun the porn wold and devote her life to God instead. Shortly after that, she met her future husband, David. 'He'd known about my past for years because my sister was going to his church. David is the kind of guy that thinks your past is your past. You can't keep looking back at it. It's done with.'
Also on Connect: Former Bafana Bafana star gives life to Christ
The couple married in December 2014, and they were soon joined by their son Carter. David, 26, says, 'What I would like people to take away from us is that God can forgive you no matter what past you come from.'
Crystal turned her life around after leaving the porn industry and soon graduated from college to become a paralegal and trained as a pastor.
'I look back at my past now and, you know, I can't say that I really regret anything because it has made me who I am today. It's like if I grew up as a teacher, I  probably wouldn't be helping people now.
'I probably would be completely different. My past made me who I am today and God has changed my life competently,' Crystal adds.
– People magazine
For the youth, by the youth. Follow Connect on Twitter and Facebook. Also check us out on Instagram and subscribe to our YouTube channel.
Also on Connect: